---
The Lansing Dojo is run by Sensei David Hayes, in conjunction with and at the Oak Park YMCA of Lansing, MI. While Sensei Hayes has had his dojo for decades, joining forces with the Y allows many more people a chance to see the school in action, and as a result, the dojo has grown considerably.
There is also a Kobudo (only) class offered at the Westside YMCA facility on Tuesday nights from 7:40-9:00PM
There are seperate classes for kids and adults, and you do not need to be a member of the Y to take the class, though you sign up for the class at the Y's front desk. Class times are as follows:
Kids class:

Tuesdays 6:00-6:50 PM
Thursday 6:00-6:60 PM

Adult class:

Tuesdays 7:00-8:00 PM
Thursdays 7:00-8:00 PM
Saturday 10:00-11:00 AM

Adult class for Advanced Ranks continues after 8:00 PM. Traditionally, Thursday's after 8:00 PM are Kobudo (weapons) class.
The dojo has a number of people who are both Sensei Hayes' students and members of the Y. Occasionally members of the dojo get together on an informal basis on other days for weight lighting and other workouts. Ask around to see if you're interested in joining someone for one of these workouts.
Directions - Oak Park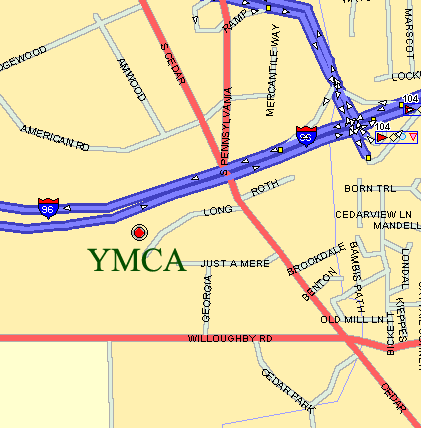 Take I-96 to the Cedar Street/Pennsylvanina exit, or just Cedar street south out of Lansing. Just after Cedar passes under the freeway there is a gas station on the right hand side, which is on the corner of Long. Turn right, drive about 1,000 ft. The Y is a large brown building on the right hand side.
Directions - Westside
Directions via Mapquest are available here.