Fax - Send/Receive fax system for Palm-Powered devices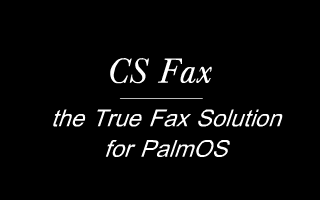 Fax documents directly from your handheld! CS Fax lets you receive faxes while you're on the go, view faxes on your handheld, sign them and send them out again, or even communicate ideas quickly with an inserted drawing. Save time and money with the power to fax wherever you are.
CS Fax is a true PalmOS fax solution! No gateways, no gimmicks, no email 'wrappers' or 'fax account' monthly fees, and no other apps needed to create a fax. -- CS Fax is the closest thing to turning your Palm into a standalone Fax machine.
Away from your PC? No problem, download CS Fax directly to your Treo! Use the Treo's web browser and go to csfax.com/getitnow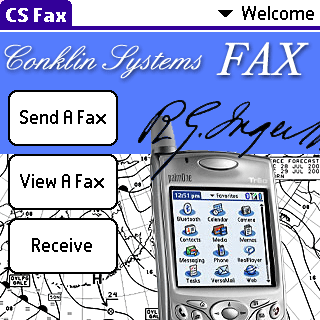 CS Fax is a fairly complex application that can be used a number of different ways, so it's important to try the free trial and make sure that it works with your Palm/Treo and your modem or cellular carrier.
Treo 700p and 755p users will need the latest release 3.0.9 to send faxes.
Treo 650's on CDMA (Sprint, others) send and receive beautifully
Treo 650's on Verizon receive perfectly, but send slowly
Treo 650's on GSM can currently send faxes, but not receive.
Treo 680's and Centro's can neither send nor receive faxes at this time.
Palm PDA's work great with external fax modems over cable/IR/BT
Cell phone/Treo users please note: In order to fax over a cellular connection, you may need a fax service plan with your provider. GSM fax services are often referred to as CSD service and is not the same as a GRPS/internet access data plan.
CS Fax 3.1.0 Open Beta
Interested in working with the early releases of the upcoming 3.1.0? CS Fax 3.1.0 adds export to and import from VFS storage cards, and uses an industry standard TIFF file format so that you can work with faxes on your desktop. To learn more about and try the CS Fax 3.1.0 beta, click here
A true standalone fax solution. No fax gateway fees
Complete control over how your fax looks
Preview fax before sending
Draw directly on preview or recieved faxes to Annotate
Support for fax receive (depending on modem capabilities)
Create multiple user defined cover pages
Insert Memo Pad, To Do and Address Book records
Insert drawings into your faxes
Management of created faxes in a dedicated database
Simple and Advanced modem configuration dialogs
Support for dialing prefixes and calling cards
Confidential
Unlike fax-to-email gateways, CS Fax is a true fax app. Faxes don't get converted to images, stored on someone else's server or sent across the Internet via email. You're in control.
Besides sending and receiving faxes, CS Fax also lets you annotate your faxes - just write directly on a fax! This opens up a number of usage scenarios, including:
Signatures
With CS Fax you can now receive a fax, sign it, and fax it back. Realtors, business managers, legal - anyone who's signature matters can now save themselves a trip to the office just to sign a document.
Editorial mark up
Because the Annotate feature is implemented right on the fax view, it feels like working with a sheet of paper. Circling mispelled words, underlines, and all the natural forms of markup are very quick to do with a stylus versus, say, an email edit.
Document store
You can store blank forms and documents on the device by simply faxing them to it. From then on, you can fill in those forms and fax them back out.
Cover page notes
Cover pages are fair game to Annotate, so besides adding a cover page note, you can also just quickly write "Thanks!" on the cover page, just as you would with a pen.
Quick drawings
Annotate can also be used for fast sketches. To leave yourself some blank space on the page, just include blank lines in your fax text. Use Doodle for more serious artwork.
System Requirements
Palm OS 3.5 or later.
An external faxmodem and the appropriate cable, IR or Bluetooth support on the Palm
OR a Treo or other Palm mobile phone with internal faxmodem support
Faxing over a cellular connection may require a fax-enabled service plan from your carrier.
GSM networks generally require CSD service to be added.