What started as a chronicling of family history and sharing a private collection of photos has turned into the definative General Motors Firebird site. And when we talk Firebird, we don't mean the car you can buy today, but rather the car of the future, a self-driving, turbine powered, titanium skin car right out of the Jetsons, with a twist - they were built and running over 50 years ago!

Turbine car? That's correct. As far back as the 1930's, General Motors had started research into turbine vehicles, and around 1950 they started building a series of turbine powered vehicles, including the three Firebird experimental vehicles. Over the span of a decade these vehicles fascinated and captured the imagination of the world.

Our story originally started with the story of a central figure in the Firebird's development, Emmett Conklin, the Firebird's test supervisor and basically the only person authorized to drive the multi-million dollar vehicles. If you see a picture of someone driving one of these cars, it's almost always him.

But as people liked the site, we added more. Then other people who were involved with the research program contacted us. Since this site originally went online in 1998 or so, we've learned much more about the program and the hundreds of people who made the Firebirds possible, and we're working to integrate more of the Firebird story as bits and pieces become available.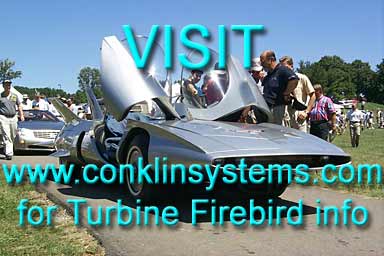 First Fuel Economy Test Instrumentation (1925) "Shorty" Mann and Emmett Conklin