So has your Pilot been to Hell and Back? Has it followed you to the far regions of Tibet? The Brazilian rain forests? This is our archive of the farthest reaches of Pilot-dom, where no Pilot has gone before!

If you've got the chance, snap a pic and send it to us with your story to be immortalized here. Mail to the mailman at the bottom of the page. Don't have a scanner? Not a problem! Just mail your pic to the address at the bottom of the page. Be sure to include your return address, so we can send your picture back - an S.A.S.E. would be nice.

| | |
| --- | --- |
| Pilot Was Here! Track thrashing madness Down Under! | |
When Byron Mills goes racing, he sees his LifeDrive flash before his eyes. Why would you strap your LifeDrive onto a racing bike? To win, of course! In Byron's own words:
Problem: Need a device to record information from my racing motorcycles at speeds around 160MPH. Device needed to be lightweight have its own power source.

Solution: One copy of CS Online and a Palm LifeDrive (optioned with the trendy METAL protective case.)

The Palm is held to the bike using VELCRO and Race Tape!

The Palm is used to record information produced by an on-board data logger, We use the Palm with a GPS navigation system to get to and from race meetings, and we also use the Built in WiFi to connect to the race event timing network (get live lap times and result sheets in pit lane)

The metal case has provided some protection for the device; the Palm was undamaged after this incident at a rain sodden race meeting at Winton Victoria Australia See



We're sure this is all covered under warranty. Really.

Pilot Was Here! Non-explosive high-tech on the Iraq/Kuwait border!
Jon S. Morrison sent us these great pics so long ago there was almost time for another war! But while we may get delayed, we never, ever give up. So finally here's a little Kuwait-life Palm style!
Seriously, we definately set some sort of record for longest time to post these, which is a shame, since they're obviously very sharp! But where the heck is he? Well in his own words:

My wife and I both worked in Kuwait for the last 4 years. My wife with the Ministry of Health as a Nurse, and myself with the Ministry of Defense. The pictures with the radar towers are taken approx. 5 miles south of the IRAQ border. These towers were Kuwaiti and were the first captured by the IRAQIS on their march into Kuwait. From my understanding these were taken back and destroyed later during a fire fight and airstrike by the US. (Don't quote me as a historian because this is just what I was told :> ) This site is still used for training by different folks and the Sept 11 epitat was painted in one of the burned out hulk of the buildings not long after that tragic day.....



| | |
| --- | --- |
| Normally we don't run this many pics, but Jon sent us so many good pics it was hard to choose. The bizarre mix of high-tech, camels(!) and devastation makes for a compelling mix. And apparently, the devastation isn't limited to wars. Check out Jon's Bizarre website of the insane accidents that are daily life in Kuwait?! | |

Pilot Was Here! Palm's the star in the Okavango Delta, Botswana!

Total solar eclipses are just plain cool, but they don't often happen near you. Jeroen Besse's crowd figured if it won't come to them, they'll go to it - in Africa! In Jeroen's own words:
"22 people went from Holland, Germany and Austria to Namibia, Botswana and Zambia, where the final goal would be: the total solar eclipse. You can read more about the trip here. Of course I took my Palm IIIx along. I took diary notes in it, and used some astronomy program to help identify the southern hemisphere at night.

The picture was taken somewhere in the Okavango Delta in Botswana, somewhere on june 14 or 15. You see me in the middle showing my Palm to the people who live and work in the Okavango Delta. At that moment I showed the astronomy program. We just saw the planet Venus at daylight (yes, that's possible, you only have to know where to look!), and I was showing them that it indeed was Venus. In the background you can see one of us looking at Venus.

Later, at night, I showed it again, and they were really amazed to see the stars on the sky exactly as they were on the screen of the Palm! I now can tell that the backlit screen can be too bright for skywatching at night. ;-)

You can notice from my hair on the picture that we didn't have a shower there, as we camped in the wild."
Hey we can forgive the hair. We know what it's like to not bathe for weeks in the wild - and that was in the Michigan State University dorms!

| | |
| --- | --- |
| Pilot Was Here! Offroad navigating near Sao Paulo, Brazil! | |
When Vladimir Campos and his friends go offroad, they go digital! It's enough just trying to type with your Palm keyboard, but in the middle of a jungle?!? Besides the cool collage, he sent us this note:
| | |
| --- | --- |
| "The green Land Rover in the pictures belongs to my friend Andre. This is a trek near Sao Paulo City (Brazil). At this trek I was the navigator and my Palm IIIx and Portable Keyboard were very useful to take important notes. Though I was using the keyboard with the Palm it was quite difficult to write during the trek because of the shaking, but they helped a lot :-) During the trek I remembered of "Pilot Was Here!" web site and I took some special pictures ;-)" | |
Gotta love that! Note the winch on the truck - handy in case you drop your Palm in quicksand. Vladimir was also responsible for Portal RTM, a Brazilian PalmOS site, so if your Portugese is better than mine (it'd have to be!) then check it out.

| | |
| --- | --- |
| Pilot, er, Visor Was Here! Barnstorming to a Techno beat! | |
Brian Hall of Mark/Space, Inc mixed past and future in what is our first "Visor Was Here!" Do Visors count? We weren't sure, but how can you turn down a shot of pre-production Visor hardware in an antique biplane! In Brian's own words:
"Ok, so not quite traditional, but I may have a "Visor was here". Got a picture of my visor with the hudson valley as the backdrop from a 1929 biplane at Rhinebeck Aerodrome in Rhinebeck NY. They have a whole field of 1904-1934 airplanes and put on an airshow every weekend from spring to fall. Before and after they give rides in a 1929 barnstormer. Pilot sits in back, and 2 double seats are in front.
If you look real close, there's a secret here - that's a screenshot of the Diamond Rio Visor module in action! That's right - a Rio MP3 player you could plug into your Visor! This way cool prototype user interface was developed for Diamond by Mark/Space and shown at PC-Expo last fall. If you want the product, let Diamond know!

| | |
| --- | --- |
| Pilot Was Here! Beta-testing in B.F. British Columbia! | |
Pity this poor Guinea-Pilot! Pilot socialite Dan "ecoTech" Royea is shown here beta testing a new waterproof case. Well, hopefully waterproof. That IS why it's called beta...
I'm exploring the use of PalmOS devices for use in field work. Part of this involved beta testing the Aquapac waterproof play-through case for the pilot. All field notes were taken on the pilot and synced to a PC to avoid having to retranscibe data by hand. It works great!
This shot was taken during some electro-fishing on a creek near a proposed mine site. My other work during this trip took me from the alpine mountain tops, through large swamp / beaver dammed areas and everything in between. I also did a fisheries snorkle down 8 km of the Rancheria River using the pilot in the Aquapac case. Unfortunately the cold temperatures dragged down the batteries in my camera, so no "hero-shots" of that little adventure.
The location where this particular photo was taken is just south of the Yukon border in north-central B.C.
Whoo baby. It might take us a while before we were willing to leave our Pilots in a stream!

| | |
| --- | --- |
| Pilot Was Here! In a sulphuric acid cloud, Kilauea, Hawaii | |
Things were a little slow, so...
If you go down the right road, there's an observation point where people go to see the Kilauea lava flow into the ocean. It's actually 3 miles from the entry point. The cooling lava flows onto the oceans forming 'shelves' that are known to crack and tumble into the Pacific, killing everyone on them. And have razor sharp edges all over.
If, hypothetically speaking, one were to ignore the "do not go past these signs under ANY circumstances" signs and cross 3 miles of brittle terrain with a consistency of broken glass, they might arrive at a really hot, caustic place that looks kinda like this.
And since anything can happen, hypothetically, one might even chance meet up with some nutcase fool enough to go with them. Someone who's trying to have hitchhiked everywhere in the world. And who, fortunately, has a bag of water.
And one might discover after a while, as they were crossing this black expanse in the Hawaiian sun, that it was raining... ouch! Burning rain?! Rain that might get in their eyes before they put 2 + 2 together and realize that that lava-enters-ocean = a sulpher + water cloud over one's head. And one might take off their shirt, to at least keep it out of their eyes. One might even get nice comments on their tan when they get back to the observation point. Until they realize, that's not a tan, those are chemical burns. And one might make a hasty drive back to the hotel for a shower!
Hypothetically speaking, of course. We don't know anyone that stupid. Someone that stupid might have had their Pilot in their pocket the whole time. But maybe they wouldn't be dumb enough to take it out and let the cloud could etch the screen.

Pilot Was Here! Palugsha, Ecuador
Want to help a child? Hand them your Pilot! From Dan Dawson comes this warm-fuzzy tale of international goodwill, Pilot style. Sally Struthers, eat your heart out!
"Here's a picture of my Palm Pilot Professional in Palugsha, Ecuador. I went down there on a mission trip in March of 1998, the town was building themselves a new church and we went down and helped them move dirt and pour concrete. I used the Pilot quite a bit before and during the trip. I used it on the plane to read a book, play games, and refresh my Spanish and Quechua (the native language of those we were working with). Before I left I had downloaded some of the basics of their language from a web site, and used it to help me study. That really amazed some of the people I spent time with, computers themselves were new enough for them, but to see their own native language on this little thing really amazed them.
The kids you see holding it had quite a bit of fun drawing pictures and playing a few games on it. I also attached a note one of the kids wrote, it says "Saludos a los hermanos de USA. Gracious para la ayuda." which I think means something along the lines of "Greetings to the brothers (friends) of the USA. Thanks for your help."

Pilot Was Here! MIR station, low Earth orbit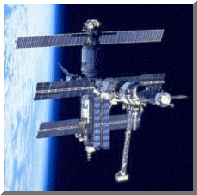 When Dr. Andy Thomas was launched on Endeavour for his 4-month mission on MIR, he took more than his camera - he packed his Pilot. Which was fine until he sent down the following questions:
The program TIMERZ is unregistered. I need the registration password to get it going, it will be useful. How do I reset GMT on EarthTime? How do I reset GMT on Time++ and change some of the listings to Summertime? Let them know also that I did not bring the cable on board to do a hot synch, so that is not an option for any of these questions.
Whoops! Please remember to register your shareware before leaving the planet. News of Dr. Thomas's Pilot has been on the net, but we were holding out for a photo.

Pilot Was Here! Alaska's Inside Passage
So is your Pilot water tight? How well does it fly? From Jonathan Valentine-Cooper, this Titanic-esque locale:
"I have here a picture of myself on the front observation deck of a cruise ship I and my family went on to celebrate my graduation in June 1998. We traveled through Alaska's Inside Passage, stopping at Juneau, Skagway, Ketchikan, Hubbard Glacier and others. Kept the Pilot with me whereever I went. I copied down the ship's activity schedule on it so I'd have it constantly available. Worked out beautifully!
P.S. My hair looks a little strange because the winds on the front observation deck were quite strong - one time we were fighting to stay upright!"
What's up with the bright green over the grafitti area? Jon reports, "Part of a "sticky note." I put that there as a writing area protector. (It's since been removed)"

Pilot Was Here! 13,500 ft above Wharton, Texas
We have to wonder how fast Rob Haig can play a game of solitaire?
"I go skydiving nearly every weekend. The longest part of the weekend is each plane ride up. So, I started taking my pilot with me. I just put it in my jumpsuit before I get out each time. (along with a little padding & a rhinoskin) I'll play chess or solitare on the way up & it makes the ride more bearable. Obviously I'm a little pre-occupied on the way down."
It's worth noting Rob has almost 600 jumps under his belt, so it might not be something to take with you on your first time up. But if you're up for it, Rob asks, "Speed chess, anyone?"

| | |
| --- | --- |
| Pilot Was Here! The Ka'u Desert, east Kilauea crater, Hawaii | |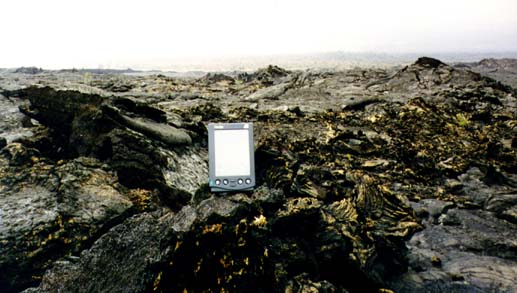 This volcanic desert is formed by lack of rain in the lee of Kilauea crater. 200 years ago, 80 Hawaiian warriors and their families were trapped in this eruption, and you can visit their preserved footsteps. Ouch! My Pilot survived almost unscathed, except the volcanic rock is sharp.
Terry Conklin, February 1998

| | |
| --- | --- |
| Pilot Was Here! Coffee hunting in the forests of Indonesia | |
Does your PalmPilot know where it's going? From Mike Pellegrino came this comes this exotic tale of hunting coffee in the jungle - with his Pilot:
I was heading to Asia to check out a number of business ventures. One of those business ventures took me to the northern island of Sumatra in Indonesia. We were on an excursion to check out some possible timber as well as some potential potato and coffee crops. Our initial reason for this trip was to verify that the land we were going to farm was where it appeared on some given maps. So, we had to get out to the land to check it out.
Well, the roads quickly went from concrete to washed out concrete, to dirt, and to finally a dead end. We were left at literally the end of civilization (where civilization was defined as a few grass and wooden huts). From there, we had to hike the rest of the way there.
The hike itself was rather challenging (we figured that we had to balance on fallen timber that totaled about a kilometer in length), but gave me prime opportunity to use my Palm Pilot Professional (with Palm III upgrade card) with my EarthMate GPS unit.
I was the navigator, so I wound up taking readings at clearings and right before we entered the jungle. Those readings were then plotted on a topography may and we could then determine how far we had traveled, and how far we had to go.

Pilot Was Here! Ouch!
From Micheal Miller comes this sad story of his friend's 3-day old Pilot:
"We had to go out and visit a customer right after lunch so Kevin grabbed his soft bag and we went out and got in his Honda Four Runner but Kevin realized he had forgot something so he placed his bag down under the front tire (for what reason God only knows). He returned, we were running a little behind and he started to back up and he rolled over a bump.
Well hitting the bump Kevin stopped and got out to look and his bag had been severely flattened. We then looked inside to what damaged had happened. The Pilot case looked fine but glass on the Pilot itself had cracked. Well being the person I am figured what the hell lets see if it works.
As the photo shows it takes a licking and keeps on ticking."
Not exactly the travel theme we had in mind, but definately someplace we weren't expecting Pilots to go!

Pilot Was Here, supposedly! Mt. Whitney summit, California

From Paul Burress on comp.sys.palmtops.pilot comes this photo-less tale. Officically, we frown on lackus-photous, but recognize the efforts this Pilot endured:
"I own a PPPro that claims it summited Mount Whitney, California on Sep12, 1997 12:00 PM (plus or minus 20 minutes) using the power of only ONE pair of AAAs..... and my aching legs!! Could it have been the first??? Could it be the only??? I dunno... Check your datebooks entries.
I have no pictures though... just the date book entries. It woke me up early and reliably both mornings in my tent and served as my memo pad and some light evening reading (previously loaded emails / web pages) on the trip. Trip featured High winds, below freezing temperatures at night as well as 80F+ temperatures in the day. Pilot endured nicely. No resets!!"

Pilot Was Here! Bad dog!
This is the pilot that was there before Pilot Was Here was here! The near-legendary "My Weimaraner Ate My Pilot" picture has been known and loved(?) by many, but it left a burning question never before answered. Where was the Pilot?
The sad story, in Jeff's own words:
"Yes, it is true, my Weimaraner ate my new Pilot Professional. I only left the house for a minute. She went into the bedroom, nabbed the Pilot off of the nightstand, walked back to her lair, and had lunch. There were only scraps left of the leather case.
She was very contrite when I came back home, but I couldn't figure out why until later that evening. I was looking for the Pilot when I suddenly remembered her guilty looks earlier in the day.
I have to give it to USR. Her teeth punctured the back of the case, and she broke the glass screen, but she didn't puncture or tear the plastic that covers the screen, so no glass got out."
Pilot Was Here vigorously pursued Jeff in search of the whole truth, (we bugged him) until he produced a picture of the location in question. Note the cold steely glare of the hardend criminal.
If you've got a strong stomach, get the high-res up close details of this poor Pilot's pain on Jeff's original page, where he has a high-res picture up. In the meantime, remember those fateful words, "I only left the house for a minute..."

Pilot Was Here! And here. And here. And some over there...
From Mike Name-withheld-'cause-he's-GUILTY, the following amazing tale! With pictures yet to come:
I've always loved high performance, whether it be a fast car, a high performance motorcycle, or a well engineered device such as the PalmPilot. Finally, a high performance electronic organizer that worked. I immediately purchased one and became a big Pilot fan. I eventually became so dependent on it that I began to worry about what would happen were I to lose it.
That's when it happened, the worst possible thing. I lost it. I'd been wondering how fast this new bike would go, but had never found a long enough, straight enough, deserted enough road to find out. Well, now was my chance. I rolled on the throttle and opened her up. 80 MPH, 90, 100, 110, 120, 130 MPH. Wow, what a thrill. Good thing there were no cops around.
When I reached my destination, I realized that my PalmPilot was GONE. Apparently, the wind had blown open my backpack and the PalmPilot had fallen out. I knew approximately where it had to have fallen, but the stretch included about 5 miles of interstate highway. I waited until my lunch break, and I set out to find my lost PalmPilot.
It took me three passes down the interstate to locate all the pieces... What was unbelievable was that it still worked! It had survived flying from my backpack at over 100 MPH, had slid for over 100 feet bumping along the road, glancing off of the the road reflectors, and yet, amazingly enough, still worked.
I still have the unit today. It's been three months since the "incident", and it works as good as ever. I'm considering an upgrade to a Palm III. Anybody need a "slightly" used PalmPilot?

Your adventure is next! Go west, young Pilot, and bring back the evidence of your Pilot Can Do attitude, and become legend.